Nspanel Pro v1.9.0 Update Still Not Matter
Nico
3 min of reading
This page has been visited ... times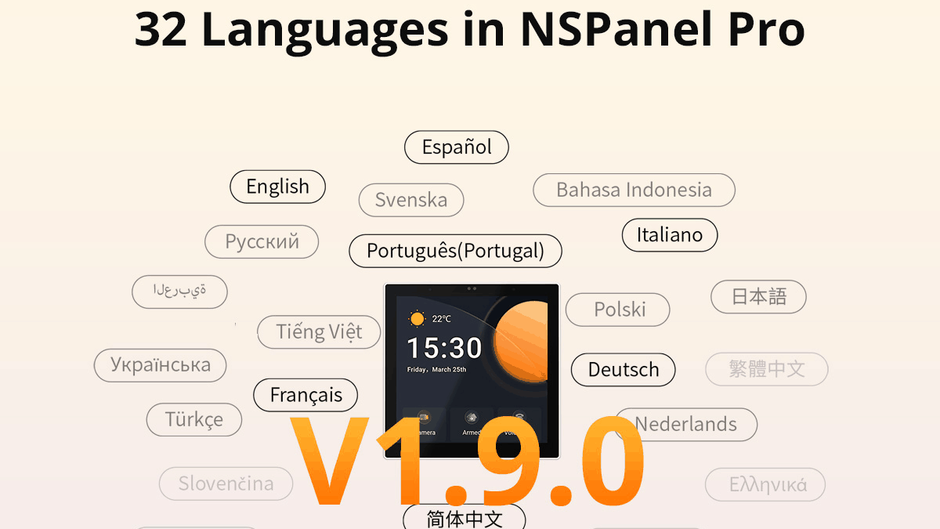 Like every month for a while, Itead has accustomed us to Nspanel Pro updates. It's time to take an overview of the new features of the v1.8.0 for the month of May and the latest version of the month of June, version 1.9.0. I didn't do any articles for v1.8.0 because it didn't bring any major new features, moreover it's the same for v1.9, for many months I've been asking myself the question of know if the EFR32MG21 Zigbee chip can accommodate zigbee/Matter protocols side by side? Will Itead make it happen?
Retrospect V1.8.0
At the beginning of May, this version was released, it brings guest mode and unlocking by password, but not only.
Improved management and control capabilities of NSPanel Pro, bringing enhanced functionality.
Guest Mode- After enabling it, Guest Mode blocks access to certain functions (such as adding devices, setting a timer, etc.). This feature requires eWeLink APP to be updated to V4.32.0.
Unlock with password - Now you have the choice to block access to NSpanel Pro with a simple code.
Optimized firmware update mechanism – When new firmware is detected, you can check the firmware download process via the download progress bar.
Added S40TPA and S40TPB modules as thermostat executive devices.
New v1.9.0 of NSpanel Pro
Translation in the spotlight!
Latest version 1.9.0, supports 11 new languages, now NSPanel Pro supports a total of 32 languages!
Added 11 new languages including Indonesian, Catalan, Danish, Croatian, Slovak, Finnish, Bulgarian, Hebrew, Arabic, Traditional Chinese and Japanese . There are currently 32 languages available in NSPanel Pro.
Support Sonoff SNZB-01P, SNZB-02P.
Zigbee sub-device OTA search time in NSPanel Pro is extended to 30 minutes.
Support to control shared groups from app in NSPanel Pro.
Languages currently supported in the NsPanel Pro:
Afrikaans, Bahasa Indonesia, Català, Čeština, Dansk, Deutsch, English, Español, Français, Hrvatski, Italiano, Magyar, Nederlands, Polski, Português (Brazil), Português (Portugal), Slovenčina, Slovenščina, Suomi, Svenska , Tiếng Việt, Türkçe, Ελληνικά, български, Русский, Українська, תירִבְעִ, العربي ة, ภาษาไ ทย, 繁體中文, 简体中文, 日本語.
Conclusion
You will have understood no big revolutions in these updates, I also regret that the NSpanel Pro is managed by the Android system which I find particularly heavy for this type of device, now we are entitled to ask us the question, whether the next update, which should be version 2.0, will integrate Matter, but as explained in a previous article, I very much doubt it?