Nspanel Pro V2.0 update compatible with Matter
Nico
2 min of reading
This page has been visited ... times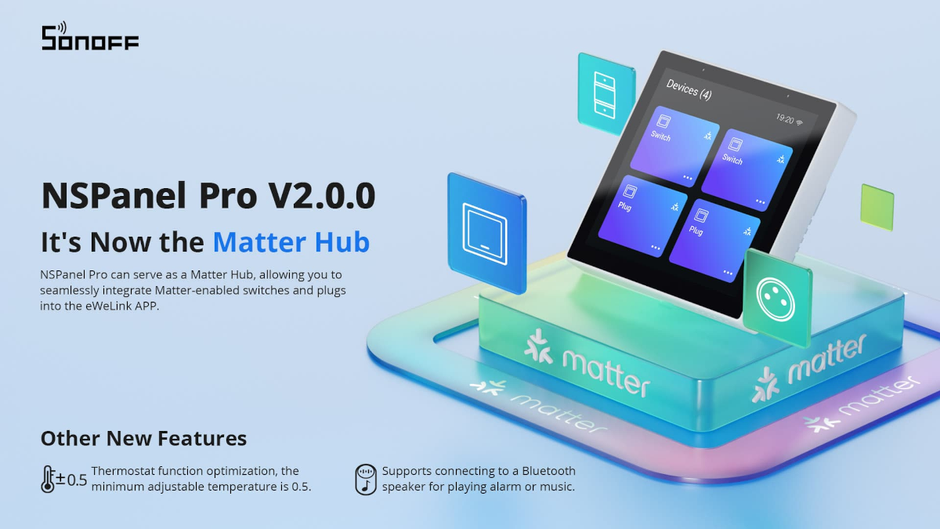 NSPanel Pro V2.0.0 released! Nspanel Pro now integrates the Matter protocol into its solution in the form of a Hub. After continuous updates and optimizations, NSPanel Pro has finally reached version 2.0.0. In this version, NSPanel Pro can be used as a Matter hub, allowing you to add Matter switches and sockets from different manufacturers to eWeLink app for management and control!
New updates
Support as a Matter hub to add Matter-enabled devices to the eWeLink app. Currently supports switches and sockets.
Support Bluetooth connection of external devices such as speakers and play music or alarm through external speakers.
Support sync Philips Hue lights from eWeLink app.
ZBMINI-L and ZBMINIL2 can be selected as thermostat execution devices.
Optimization
Optimization of thermostat function. Improved accuracy of temperature control, good news the minimum adjustable unit is 0.5, added "+" and "-" buttons; optimized thermostat interface.
Some new features require the APP to be upgraded to V 5.0 before they can be used.
Conclusion
This article is presented as a version announcement, I have not tested it to see if this firmware supports matter and zigbee at the same time and this without automatically going through ewelink. I will have to look into the subject and soon I will do a test with the new Sonoff MINIR4M mini relay which was lent to me a short time ago by the company Itead.