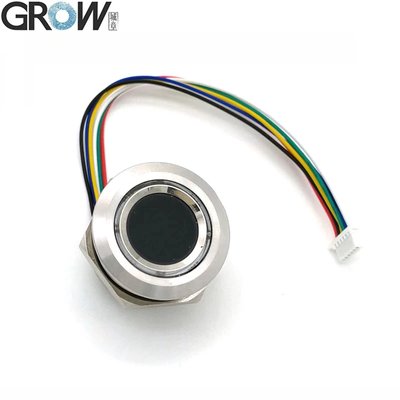 Shop info
Positive Feedback:97.2%
Followers:1425
Grow R503 - Fingerprint sensor
Update:24thSeptember 2023
Rating:
Quantity in Stock: 1171
The Grow R503 can collect 200 fingerprints, the recognition rate is high whatever the conditions (dry or wet finger, fine texture or marked texture). It can be easily integrated into a variety of end products, such as: access controllers, presence, safe ….
Accessories are also available with the Grow R503 such as a stainless steel plate support, despite its fairly high level of tightness, ip65 you can also buy a plastic or zinc protective valve.
Product Description
| | |
| --- | --- |
| Model | R503 |
| Type | Capacitive Fingerprint Module |
| Interface | UART(TTL) |
| Resolution | 508 DPI |
| Voltage | DC 3.3V |
| Fingerprint Capacity | 200 |
| Sensing array | 192*192 pixel |
| Working current | 20mA |
| Standby current | Typical touch standby voltage: 3.3V, Average current: 2uA |
| Fingerprint module external size | Diameter 28 (mm) |
| Fingerprint module inner size | Diameter 23.5 (mm) |
| Fingerprint module height | 19 (mm) |
| Effective collection area | Diameter 15.5 (mm) |
| Connector | MX1.0-6Pin |
| LED Control | YES |
| LED Color | Blue and Red |
| Scanning Speed | < 0.2 second |
| Verification Speed | < 0.3 second |
| Matching Method | 1:1; 1:N |
| FRR | ≤1% |
| FAR | ≤0.001% |
| Work environment | -20C —60C |
| Work Humidity | 10-85% |
| Anti-static capacity | 15KV |
| Abrasive resistance intensity | 1 million times |
| Communications baud rate (UART): | (9600 × N) bps where N = 1 ~ 12(default N = 6, ie 57600bps) |
Technical folder: download here