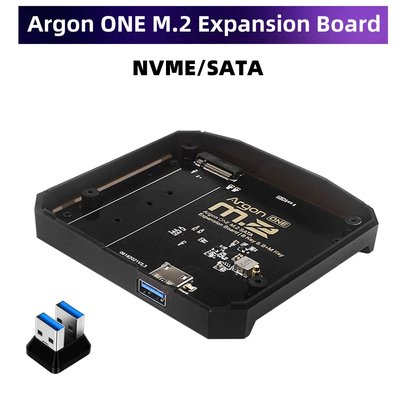 Shop info
Positive Feedback:98.1%
Followers:12310
Argon One M.2 expansion card
Update:30thNovember 2023
Rating:
Quantity in Stock: 1
to all those who wish to add the M. en Nvme hard disk expansion card to their existing Argon One then this product is made for you. Finally a lasting solution to the sdcard, all you have to do is buy an Nvme compatible dd
Presentation:
The Argon ONE M.2 expansion card expands support for M.2 SATA or NVME SSDs to maximize the true potential speeds of your Raspberry Pi 4. Now you'll be able to boot through an M.2 SATA or NVME SSD for faster boot times and greater storage capacity compared to traditional microSD card.
To use it, simply replace the bottom of the Argon ONE case with the expansion board, and the case can now use SSDs. It is recommended to use Raspberry Pi 4 cases, but due to the USB 3.0 ports provided by the boards.
Argon ONE M.2 is UASP supported for the Raspberry Pi 4, which means you can maximize the transfer speeds of your M.2 SATA or NVME drive.
It is compatible with any M.2 SATA or NVME SSD with Key-B and Key B&M.